EDIFICE ×

Scuderia AlphaTauri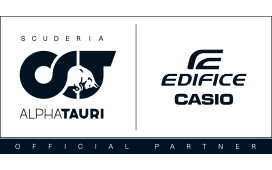 ― Partnership ―
Scuderia AlphaTauri.
The new name of the Scuderia Toro Rosso Formula 1 team from the 2020 season.
A team whose talented young drivers and technicians are constantly
applying the latest innovations in a quest to be the very best.
EDIFICE is proud to have been an Official Partner of the team since 2016,
bringing together the youthful spirit, advanced technology,
and love of speed of both sides under the EDIFICE worldview of "Speed and Intelligence."
Fueled by direct feedback from the Scuderia AlphaTauri team members and advanced technology,
EDIFICE continues to lead the way in pioneering the possibilities of chronograph excellence.
― 2020 Race Calendar ―
AUSTRALIA

AUS

13-15

MAR

BAHRAIN

BHR

20-22

MAR

Night

VIETNAM

VIE

03-05

APR

NETHERLANDS

NED

01-03

MAY

SPAIN

ESP

08-10

MAY

MONACO

MCO

21-24

MAY

AZERBAIJAN

AZE

05-07

JUN

CANADA

CAN

12-14

JUN

FRANCE

FRA

26-28

JUN

AUSTRIA

AUT

03-05

JUL

GREAT BRITAIN

GBR

17-19

JUL

HUNGARY

HUN

31

JUL




02

AUG

BELGIUM

BEL

28-30

AUG

ITALY

ITA

04-06

SEP

SINGAPORE

SGP

18-20

SEP

Night

RUSSIA

RUS

25-27

SEP

JAPAN

JPN

09-11

OCT

UNITED STATES

USA

23-25

OCT

MEXICO

MEX

30

OCT




01

NOV

BRAZIL

BRA

13-15

NOV

ABUDHABI

ARE

27-29

NOV

Twillight