Smartphone Link
Linking the watch to a smartphone provides access to the correct time,
not only in the current location but over 300 cities around the world.
Alarm setting and control over various other functions
from the smartphone enhance operability to an unprecedented high level.
Automatic Time Adjustment
The watch is reset regularly 4 times a day*1 by the smartphone to show both home time and world time correctly. You can also reset the watch manually with just a push of a button*2 when crossing between time zones. The precise time in the current location is displayed instantly with DST (daylight saving time) taken into account.
*1 EQB-501, EQB-600 and EQB-700 are 4 times a day. EQB-500 is once a day *2 EQB-600
Accurate Time System
Accurate time information (UTC) is acquired by a smartphone from a time server on the Internet. The smartphone then analyzes this time data and its own current positioning data regarding the time zone and DST (daylight saving time) status of the current location and resets the watch to the correct time automatically. Since Wi-Fi communication is also possible, the smartphone can also acquire time information in indoor environments such as airports or subways.
---
Easy watch settings
World time setting and various other operations can be managed on the smartphone.
World time city selection
Home time / world time display switching
Operation sound ON / OFF switching
Adjusting hand alignment
Alarm setting
---
Phone Finder
Performing a button operation on the watch causes your phone to sound a tone, even if it is in silent mode. This means you can quickly locate your phone even if it is in your bag, or anywhere else nearby.
---
Other Function
Transfer stopwatch data to a phone to create a log file.(lap/split time display measured in 1/1000 second for up to 100 entries)
Use your watch to check for new e-mail. (Requires registration of mail account with the app.)
---
Comparison Chart of Mobile Link Functions
EQB-900
EQB-800
EQB-501
ECB-800
Time Adjustment
Easy watch settings

World Time




for

over

300 cities

Daily alarm settings
Countdown timer settings
―
―
―
Button Operation Tone ON/OFF

Home time /




World time




display




switching

Stopwatch Data Transfer
EQB-900
EQB-800
EQB-700
EQB-501
Email Check
―
―
*
―
Alert Notification


( call/Email/SNS notification, etc. )

―
―
―
―
Phone Finder
Adjusting Hand Alignment
* By operating the watch, you can check the new Email whether they are coming or not.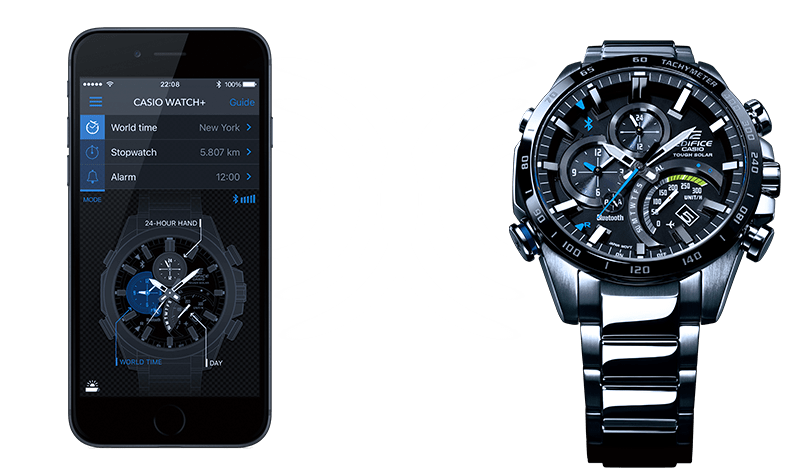 ---
---
* Apple, the Apple logo, iPhone, and iPod touch are trademarks of Apple Inc., registered in the U.S. and other countries. App Store is a service mark of Apple Inc.
* Android, Google Play and the Google Play logo are trademarks of Google LLC.
* Other trademarks and trade names are those of their respective owners.
Products that support this feature